56.3 Million bottles delivered
30% Savings vs our competitors
100% Canadian

56.3 Million
bottles delivered

30% Savings vs our competitors

100%
Canadian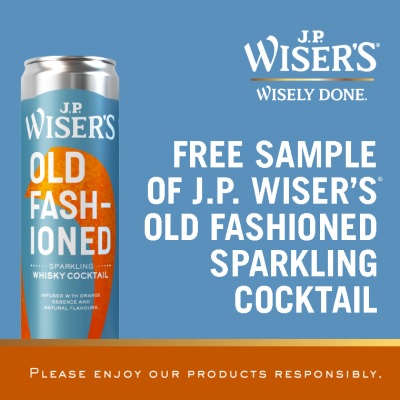 J.P Wiser's Old Fashioned Sparkling Cocktail Promotion
---
Receive a FREE sample of J.P Wiser's Old Fashioned Sparkling Cocktail along with your next delivery.
Get this delivered in 2 hours
Description
Made with premium J.P. Wiser's Whisky this Old Fashioned sparkling seltzer is infused with orange essence and natural flavours. The combination of whiskey, orange flavour and carbonation is complex and refreshing. This convenient, ready-to-drink cocktail is best enjoyed chilled or over ice.
You will be notified by email when this product is back in stock near you.
Offer available in select areas.
While supplies last.
Must be 19+, please enjoy responsibly.
Barrie · Innisfil · Ancaster · Beamsville · Dundas · Grimsby · Hamilton · Niagara Falls · Niagara-On-The-Lake · St. Catharines · Stoney Creek · Thorold · Welland · Scarborough · Toronto · Bolton · Brampton · Burlington · Caledon · Georgetown · Hornby · Kleinburg · Milton · Mississauga · Oakville · Waterdown · Woodbridge · Cambridge · Guelph · Hespeler · Kitchener · Rockwood · Waterloo · Corunna · Sarnia