56.3 Million bottles delivered
30% Savings vs our competitors
100% Canadian

56.3 Million
bottles delivered

30% Savings vs our competitors

100%
Canadian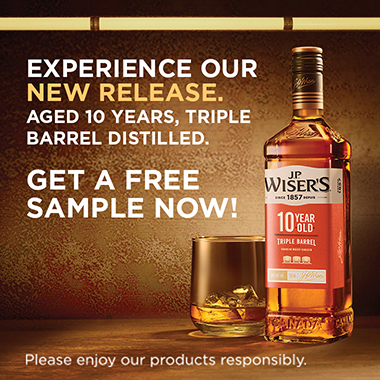 J.P. Wiser's 10 Year Old Whisky Promotion
---
Receive a FREE sample of J.P. Wiser's 10 Year Old Whisky on your next delivery!
Get this delivered in 2 hours
40% ABV / Ontario, Canada / Corby Spirit and Wine Limited
Description
This award-winning blend of corn and rye is triple barrel aged 10 years in new white oak, American bourbon and used Canadian whisky barrels. The complex flavours of caramel, honey, vanilla, dried fruit and spices are balanced by subtle notes of green apple and pear. Smooth with a pleasant finish. Sip neat or on the rocks.

Tags
You will be notified by email when this product is back in stock near you.
Offer valid through April 9th, 2023, available in select areas.
Free sample is one(1) 50mL bottle of J.P. Wiser's 10 Year Old Whisky per order. While supplies last.
Must be 19+, please enjoy responsibly.
Only applicable when paying for order with credit card online.